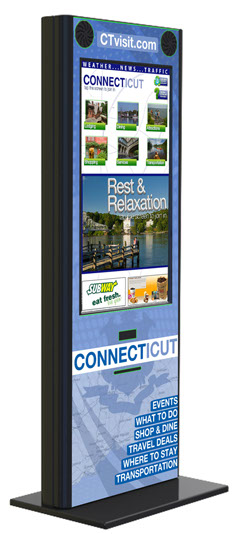 Ionescu Technologies LLC has created the Landmark Kiosk™ which provides business, event and tourist information in kiosk and web site forms.
Base 16 worked with Ionescu Technologies LLC and our graphic design partner, Emphasis Creative, to design the look and feel and functionality of the Landmark Kiosk™. Base 16 then created a back end management system and a distributed database system that manages the data for the Landmark™ system.
Each Kiosk runs a Linux distribution, specially adapted by Base 16 to work with the touch screen and thermal printer. Each Kiosk periodically checks in with the central database, uploading information about its activity, and downloading the latest updates to business and advertiser listings.